Sync me in
The iPhone supports Wi-Fi 802.11b/g, USB v2.0 and of course Bluetooth v2.0. The Bluetooth functionality doesn't include the A2DP profile for listening music on stereo headphones and, what is more, it can only be used to connect to a wireless headset. That's odd! It means that you cannot, by any means, exchange data with other Bluetooth enabled devices. This is a decision beyond our understanding, given the huge popularity of Bluetooth file transferring nowadays. Maybe Apple are trying to tell the world something and we're sure they have serious reasons for such a decision, but we would like to know what they are.
The iTunes interface for syncing the iPhone is much like the one for iPod, but comes with more options. Also much like an iPod, the iPhone appears as a removable drive on the computer and can be used as a mass storage device – the files you upload however will not be accessible from within the iPhone.
The Safari web browser is probably the best mobile browser we've seen on a mobile phone. First of all, it's fast and pages look very nice in landscape mode. You can zoom by just double tapping on a picture or a text column and then pan with your finger to navigate the page. Double tapping on an already zoomed object zooms out and shows you the whole page in full size. By the way, full-size pages reveal their whole layout but the text and pictures are microscopic. The aforementioned double tapping however is enough to get a detailed look at the desired section.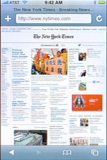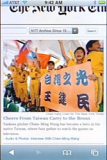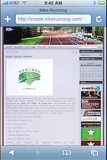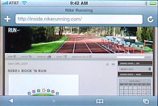 New York Times website • zooming in • Nike website: portrait and landscape
You can open multiple windows simultaneously and switch between them by flicking the respective tab shown on the left or the right of the main window. The bookmarks the Safari browser offers can be synchronized with your Mac or PC. So far so good, you'll say, but strangely enough the iPhone Safari browser doesn't support Flash or Java (not to be confused with JavaScript). No comment – it's just another odd surprise. Our overall impression of the Safari web browser is superb – it left us delighted since it provided the easiest web browsing experience we've seen to date.
Your mobile Dashboard
So what does the iPhone offer in terms of additional applications? Actually a pretty common set of functions plus iTunes, iPod, and the, no longer unique, YouTube client. You also have Weather, Stocks, Maps and Notes.
The personal data management applications include the Calculator, which is nothing special, as well as the slightly more elaborate Clock. It includes World Clock, Alarm, Stopwatch and Timer, which are all very effective and easy to use. The World Clock, as you can imagine, allows you to track the time in multiple time zones, the Stopwatch is a regular one, with a lap function, and the Alarm can be set to multiple, user-defined alarm times. The Calendar is a reliable application with solid performance. It has great layout and interface and makes good use of the screen real estate and you can synchronize it with your personal computer through iTunes. Some people may find the Notes application useful, others not, but in general this feature is pretty much OK. You can write notes, with a cool handwriting-like style, on what appears to be a yellow notepad. Text input with the virtual keyboard is a pickle though. Unfortunately, those notes don't get synchronized via iTunes.
The YouTube client allows users to browse a special version of the YouTube website and watch the videos there. Since the iPhone does not support Flash video, all video clips are re-encoded from Flash to H.264 video for streaming. However, the YouTube application allows you to fully appreciate the supreme video quality which the iPhone offers. Really, the quality is simply outstanding, so don't hesitate to try it.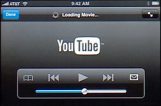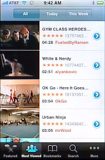 YouTube player • YouTube videos
The Maps application features real maps provided by Google. The iPhone doesn't have a built-in GPS receiver, but the Maps are actually pretty accurate and can show you the desired route between user-defined points with turn-by-turn directions.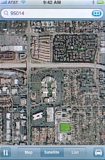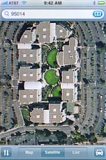 Using satellite maps of Cupertino and zooming in even more
The application even allows searching for places of interest or other notable places in your vicinity – for example you can use it to find a nearby museum and then have a sushi snack in one of the listed Japanese joints locally.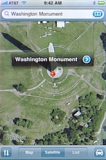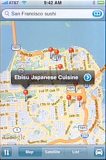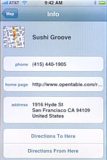 Searching for places of interest and restaurants
Furthermore Maps allows you to plan travel routes by giving you detailed information about traffic and even plans all the available routes for you to choose. The ones marked with green are usually the better ones.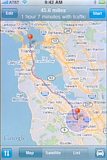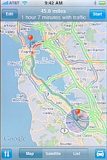 Checking traffic congestion and alternate routes
The Stocks application lets you track the movement of your preferred stocks on the market, while the Weather is an application that shows you the weather in all of your favorite cities divided in tabs.
Technically, the iPhone has support for Word, Excel, and PDF documents but only in read-only mode. And the only way to transfer documents to the iPhone is mailing them to yourself. The iPhone doesn't have an IM application either.
As for native third-party applications, there is no official support for them. As Steve Jobs, the Apple CEO announced, a SDK will be freely available somewhere around February 2007. For now developers are welcomed to work on web-based applications and games (no Flash or Java, remember!). It seems however that Apple doesn't have the final word on that matter though. As it turned out the unlocked iPhones that have been spreading like a wild fire also allow installing third-party native applications too. And the mobile community is wasting no time and is developing new applications at a fast pace.
Final words…
So let's sum it up. The iPhone doesn't claim to be the best phone ever. It's above average, but it has a long list of drawbacks. It's not a business phone either, so don't confuse it with one. And it's most definitely the best iPod ever. However we find that the description that suites the iPhone best is "a dedicated entertainment multimedia mobile device". If you're keen on browsing, listening to music and consuming multimedia content, this handset is, without a doubt, the top performer in its class. Every process is maximum simplified and as fun as possible. It almost feels like a game. And it's a pretty darn good one, too. Well, time to say goodbye to this much-coveted device – we are looking forward to seeing it hit the European market in the end of the 2007.