Hallo, hallo
The phone is nothing special. You have the onscreen dial pad, and a convenient Recent section, which keeps track of all the calls made, received and missed. As far as the common user is concerned, the iPhone has a pretty good reception and the voice quality is just above average. However the loudspeaker performance is not so impressive.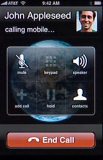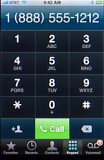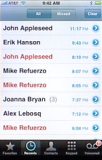 Calling a contact • Using the dialpad • Recent lists
Your contacts are organized in the traditional phonebook and the Favorites list, which is a reinvented speed dial. It stores the most accessed contacts into one list. You can also synchronize your contacts with your Mac or PC using iTunes. Unfortunately, the iPhone phonebook doesn't allow letter-by-letter searching of your contacts. You have to scroll to find the contact you need, and in some serious cases where you have more than 500 contacts, it turns out to be a challange finding the single one you need to call. This search however is available when you are sending messgaes so why they left it out of the phonebook is a real mystery.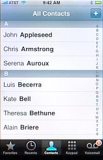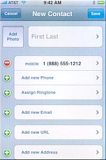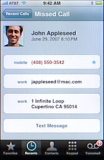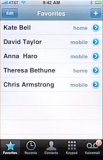 Contacts list • adding a contact • contact details • favorites list
Hitting the message express
The SMS application is uncomplicated and it organizes your messages nicely. It divides them into threads on both sides of the screen – inbox on the left and sent items on the right. SMS messages are sorted in a distinctive "bubble conversation" pattern.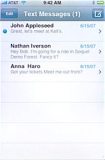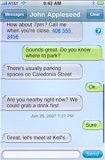 Message inbox • Reviewing a conversation
An unexplainable drawback is the lack of MMS, and that's not the only thing missing in this section. Another one is that you cannot send a message to multiple recipients. Also there's no Drafts folder – if someone happens to call you while you are typing a message, it's gone for good. There's no message delivery reports either – a feature which is otherwise old as the GSM mobile phones themselves.
The mail client of the iPhone is of course very good. Setup is very straightforward and we'd say that the whole application works well. It supports POP and IMAP accounts plus presets for Yahoo, Gmail, Mac and AOL mail. The Exchange mail server support is a bit dodgy and works with IMAP only.
The mail client is a nice application, but it does have its flaws, especially when it comes to message managing. It doesn't offer any spam filtering and you cannot delete multiple e-mails, as well as there is no way to mark multiple emails as read.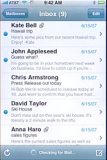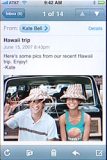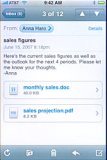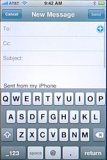 Mail inbox • email with inserted picture • email with attachments • composing an email
Push email is not supported, but you have the option to set the iPhone to check for new messages at configurable periods of time.
Unfortunately, the iPhone doesn't have cut/copy/paste features, which always come in handy when working with emails and general messaging.
iPoding
The iPod application is very easy to use and really entertaining. Browsing tracks is made incredibly easy and it's a shame the iPhone doesn't let you create your own playlists. It is of course doable, but only on your personal computer, which is sort of inconvenient. There are also On-The-Go playlists, but sadly enough as the name suggests they can't be saved. Audio quality is crystal clear. If you like iPod, you'll most definitely enjoy the iPod application and the whole iPhone in general.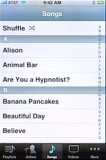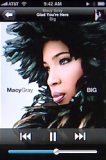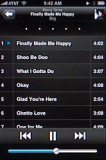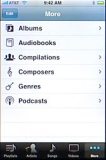 Viewing tracks • listening to a track with album art • other album tracks • other sorting features
And finally here comes the Album view. It's actually called CoverFlow, and switching it on is as simple as rotating the iPhone to landscape orientation. It's the ultimate eye pleaser. We are not going to try and explain it in writing. We won't get even close to describing the feeling you get when you actually use it. So, if you still haven't held an iPhone, take a look at this video.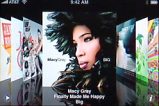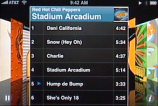 Using CoverFlow • playing an album
Viewing videos with it is just amazing. You'll always be satisfied with the size and quality of the picture. The widescreen high-resolution display makes watching videos a pretty pleasant experience.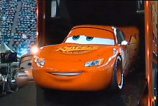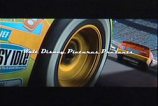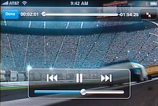 Video player: normal, theater mode, controls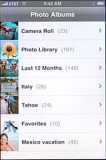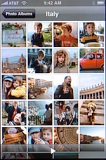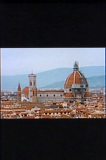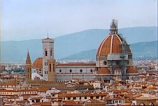 Browsing albums • opening an album • a photo in portrait and landscape mode
Camera: 2 megapixel, 0 frills
The iPhone camera is simple and… well, simple. The built-in 2 megapixel camera is ok for indoor pictures with good lightning and no need of manual settings, but if you have to adjust the picture mode a little for something special: oops – there are no settings! Yes Apple decided to strip the camera menu completely. So if you're keen on high quality cameras, with all possible adjustment possibilities, consider this drawback before you make up your mind about your next purchase. But in general, these auto-adjusted "point and shoot" pictures come out nice and in comparison to other 2 megapixel phone cameras the iPhone actually does just fine.




Some real life photos of the iPhone camera
Should you decide to email a picture however, the image gets automatically resized in half the original resolution of 1600 x 1200 pixels. An utterly disappointing solution, we should add, and there is no way of changing that.
The camera of the iPhone is unable to record video. If you're getting your hopes on shooting your own videos with your iPhone and then uploading them to YouTube, just like you've always dreamt of, forget about it! Now Apple should have got that one straight – if it wants to be a full-fledged multimedia device, iPhone can't afford to compromise video recording capabilities.